Their Timeline #2: 11 months, $0. How Visualize Value really started
Jack Butcher's Visualize Value is often hailed as the poster boy of how creators can succeed in the creator's economy. But few knew that Jack spent the first 11 months without making a single cent from VV. What did it take for Jack to build Visualize Value from nothing to a million dollar business?
In this part, we examine the foundation phase of Visualize Value, including how Jack:
attracted attention to his tweet despite having no following,
built synergy among his various media,
iterated till he found his first profitable and scalable product
This story takes time to develop, but it encapsulates the creator's struggle of putting in thousands of hours of work with little returns to show for. Get a sense of what it was like for Jack; and if you are a struggling creator, I hope this will also provide you with the motivation to keep going. Let's dive in.
Because of the sheer amount of visuals that Jack uses, this post is best viewed in your browser.
The Early Years
Jack graduated with a degree in graphic design in 2010, worked at multiple agencies till 2017, then started his own agency. He got burnt out, then iterated on the agency model till he landed on Visualize Value.
🗓 Jan 11 2019: Jack announces The Trust Accelerator. This is Jack's first project to 'automate' aspects of the agency model- he wanted to create efficient processes for the onboarding process of the agency's clients, instead of reinventing the wheel for each of them. At this point, Jack is already thinking of creating systems for his workflow. If you are currently involved in providing a service, it will be extremely helpful to think if you can productize part of that service/workflow. This is exactly the same tactic that Jack used for Visualize Value's Daily Manifest, as we shall see in the later part of this article.
🗓 Jan 19 2019: 8 days later, there was Visualize Value's first Tweet (2 retweets, 9 likes). Jack essentially ran two concurrent experiments- The Trust Accelerator and Visualize Value. The latter is meant to be an evolution of the former- while The Trust Accelerator still needed the physical presence of the agency's staff, Visualize Value productizes the whole process of content creation, and allows clients to do so asynchronously.
Jack has a very interesting approach to productizing- instead of thinking of a single product, he launches several products at once, which allows him to capture different points on the scale of automation. If your goal is point e, you can always start by launching products on points a and b, then slowly progress towards your goal as you get better at the scale you choose to improve your products on.
🗓 January 22 2019: Jack's output with VV is stunning- he creates 3-5 visualizations a day. In addition, he did not just focus on a single person's thoughts and quotes. Instead, he covered a wide range of individuals, ranging from Seth Godin to Nassim Taleb, and of course, Naval.
Because he tags each of these individuals, he is increasing his reach to fans of each individual. These fans may be non-overlapping, thus increasing his efficiency in building VV's brand.
🗓 May 19 2019: Jack has been quieter on VV's front. There was only one tweet from February 2019 to September 2019 period. While there was more likes (34) on this tweet, this is still very few compared to his current tweets which can get a few thousand likes.
(cont) Jack will be a lot quieter on Visualize Value's Twitter feed for the next few months for good reason-
🗓 May 23 2019: Jack launched his own Substack, aptly named Visualize Value. It is clear that he sees that VV can go beyond simply being a Twitter account that puts out graphics- instead, he wishes to expand into different forms of media, such as newsletters, audio content and YouTube videos. His own Substack can also serve as the platform for those different forms of media, such as:
(cont) As you build your own personal brand, it is important to consider which platforms you can use to best serve the type of media you have in mind.
Jack mixes things up by using his Twitter to build a following for Visualize Value (by leveraging on already famous people) → creating a Substack that holds written and video content → allowing for older videos (like the one above) to be (re)discovered.
In short, there is synergy between the various forms of media and products that he is creating. If you are building some piece of media that just isn't getting the attention that you think it deserves, do not dump them into the trash can. Instead, think of how they can be re-marketed and discovered in the future. Media is an awesome tool for indie hackers because of the short iteration cycles- use them wisely. Look for demand from consumers, and once you've built up your audience, you can funnel them to your older projects.
Over the next few months, Jack will be extremely active on Substack, posting various articles explaining his graphics, and recording audio content.
🗓 May 29, 2020: '11 months, $0.' A post from Jack that summarizes Visualize Value thus far.
The question is, are you building the momentum in your projects? An exponential curve has a very gentle rate of increase at first, but you must make sure it is increasing.
It is important to not get discouraged when you are not seeing the results you want to see, but you also have to validate if your idea has demand. If not, iterate, iterate, iterate.
🗓 October 4 2019: Jack resumed frequent postings on Visualize Value. While the posts have higher engagement, they are still not wildly popular.
🗓 September 6 2019: Jack released a simple document that he uses himself to keep track of his own goals and habits.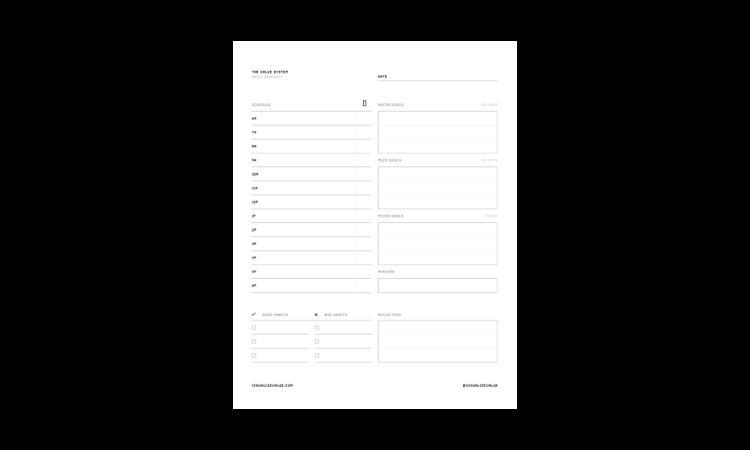 This document is exclusive to his Substack subscribers- an interesting lesson. While it is true that the newsletter is the main product, newsletter writers often confuse it for the only product. Imagine if we entice people to subscribe like how magazines offer subscription gifts.
🗓 November 29 2019: It is the one year anniversary of Visualize Value. Jack still has not made significant money, neither does he have any 'best-selling' products. I am highlighting this as it is important to see how other successful creators/indie hackers struggle, and know that this is often part of the journey.
Jack offered the print edition of Visualize Value for sale (which has been discontinued).
While it is unclear what the exact reason is for Jack discontinuing this product, he soon launched another product that will prove to provide much higher ROI and easier distribution-
🗓 December 16 2019: Jack launched the VV Daily Manifest at an affordable price of $19. This is his first foray into digital products, and it probably opened his eyes to the ease and profitability of such products.
There are 3 takeaways from the launch of VV's Daily Manifest:
Digital products are great for indie hackers who do not necessarily have the capital for physical goods, and for solopreneurs who do not have the time to handle administrative work (e.g. shipping of goods).
Iterate the product/service that you are offering! It took only about 2 weeks for Jack to offer a new product (from the previous print version of VV). The more (high quality) products you put out there, the more you can test the market demand.
Leverage on the knowledge and workflows that you already have. Similar to Janel Loi's Newsletter OS, VV Daily Manifest probably grew out of the workflow that Jack already possessed. There is no need to create a product from scratch, you can ask yourself- what is some workflow that you have managed to synthesize over the years? Even if you are unsure if there will be demand for your idiosyncratic knowledge, it does not hurt to put it out there and gauge interest.
This concludes the first chapter of Jack Butcher's Visualize Value- how he started his project from scratch, to landing on his first digital product that will shift his whole focus. At this point, Jack likely has not made much money from this project. But, he has laid the foundations for Visualize Value to soar.
Subscribe to receive updates on the release of the next installment- we are going to explore how Jack expanded on his arsenal of digital products, and started becoming extremely profitable.
Give Their Timeline a shout out on Twitter if there is any entrepreneur whom you'll like to be featured too.
Enjoying these posts? Subscribe for more